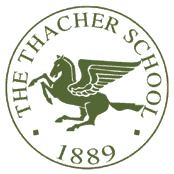 Thacher School
School Name:
Thacher School
Location:
5025 Thacher Road, Ojai, California, CA 93023, USA
Founded Year:
1889
Religion:
Episcopalian
Motto:
Honor, Fairness, Kindness and Truth
Type:
Co-ed
Boarding Age:
14-18
Year Group:
Grade 9 - Grade 12 and a small post-graduate class
No. of Students:
240
No. of Boarders:
220
Average Class:
11 students

School Facilities:


In 2007 was responsible for adding a new performing arts center, a student commons, two new dormitories, faculty housing, and numerous other improvements.
Average SAT:
660 verbal, 650 math., 660 writing 1970 (2012)

Entry Requirement:




SSAT Required (85%)

Extracurricular Activities:




10 interscholastic sports, 36 interscholastic teams
The School
All students are required to ride and care for a horse during their rst year.
Throughout the year, students are encouraged to take weekend camping trips into the local mountains. And each fall and spring the whole school breaks into small groups for week-long trips that may include backpacking, rock climbing, cycling, sailing, horse camping, canyoneering, and kayaking.
In addition to the normal boarding school mix of athletic facilities (gymnasium, tennis courts, track, 3 elds, tness center, and pool, although the pool is not used for athletic events), the campus has extensive barns, pastures, arenas, and elds for equestrian use, including a network of trails that links campus to the adjacent Los Padres National Forest.
Typically, ninth graders take fi ve classes in the fall—English, math, physics, language, and arts (drama, music, and studio), then add history beginning in January. After the ninth grade, students take anywhere from five to six solid classes.
In math and language, students are automatically placed at a higher level if they have the background and ability to take upper level courses.
Admission
The application is made up of a student questionnaire and essays, teacher and personal recommendations, and candidate's transcript. Be certain that all application forms are completed and received by the School by January 15. Candidates whose applications are completed by this deadline are mailed noti cation of the Admission Committee's decision on March 10. Thereafter, applications are accepted on a spaceavailable basis.
Boarding Houses
Residential areas are organized to support a tight-knit campus community where faculty members and their families live and work in close proximity to students.
Dormitory life is a rich blend of studying, relaxing, sleeping, and enjoying the occasional "munch out" with friends.
Freshmen typically have single rooms. After that rst year, students live in a combination of singles and doubles.
2012/13 US High School Boarding Fees# (USD$) Per Year
| | | | | | |
| --- | --- | --- | --- | --- | --- |
| 7th Grade (12/13 Years Old) | 8th Grade (13/14 Years Old) | 9th Grade Freshman Year (14/15 Years Old) | 10th Grade Sophomore Year (15-16 Years Old) | 11th Grade Junior Year (16-17 Years Old) | 12th Grade Senior Year (17-18 Years Old) |
| - | - | 50,550 | 50,550 | 50,550 | 50,550 |
Remark: #Inclusive of tuition fees but exclusive of miscellaneous fees, such as uniform, extracurricular activities