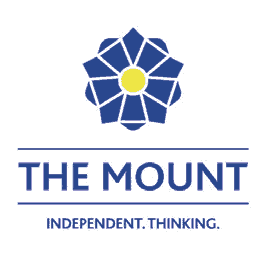 The Mount School
School Name:
The Mount School
Location:
Dalton Terrace, York, North Yorkshire, YO24 4DD, United Kingdom
Founded Year:
1857
Religion:
Roman Catholic
Type:
Girls
Boarding Age:
12-18
Year Group:
Pre-School - Year 13
No. of Students:
376
No. of Boarders:
56

School Facilities:




There is a drama suite, a new sixth-form centre, a multipurpose sports hall, a 25-metre indoor swimming pool, a fitness suite and grass tennis courts.
The sporting facilities are 16 acres (65,000 m2) of pitches, an indoor heated swimming pool, a sports hall, and a gymnasium. The Mount has an entire block dedicated to Music and holds three concerts in the year.

Entry Requirement:




Entry criteria are an interview, a taster day, the School's own examination and a former head's report.

Sixth Form Entry Requirement:


A minimum of 6 GCSE's are required at Grade C or above, and at least Grade B in the subjects she wishes to pursue at A-Level.

Extracurricular Activities:




Netball, hockey and swimming in the winter and rounders, tennis and athletics in the summer, College girls are able to choice from a wider variety of sports including lacrosse and using the fi tness suite.

The School
The Mount School has for many years been acknowledged as one of the top independent girls' schools in the United Kingdom. In The Times League Table, the school is ranked 2nd by A-level results in the York area.
Academically the school maintains traditional values and has developed "pillars of excellence" in several subject areas: science, music, sports, art, drama and foreign languages.
It is set in a very pleasant 16-acre campus with splendid gardens, mature trees and playing fi elds. A Quaker school, its ethos is to encourage and develop the individual within a small, caring community.
The School has excellent facilities in all areas. Subjects are taught in specialist rooms with full access to modern technology. Pupils have access to excellent computer facilities in and out of normal school hours.
Admission
Please contact the Admission Offi ce directly by email, by post or visit the School website for latest information.
Boarding Houses
Boarding at The Mount School enables and empowers each girl to fulfi l her potential for academic and personal excellence.
Within our boarding family there are two Houses; School House for Years 7 to 11 and College House for Years 12 to 13, both of which provide a nurturing environment in which every girl can grow and discover who she is. Each House has an experienced and qualifi ed team of residential staff, who work in partnership with parents and liaise closely with academic staff.
GCSE Subjects
Art, Art History, Biology, Chemistry, Classic, Design and Technology, Economics, English, Geography, History, Mathematics, Modern languages, Physics, Science school, Music, Theology
GCE AL Subject Choice
Art and Design, Biology, Business Studies, Chemistry, Classical Civilisation, Drama and Theatre Studies, English Literature, French, Geography, German, History, Latin, Mathematics, Music, Physical Education (PE), Physics, Product Design, Psychology, Religious Studies and Sociology
2012/13 Boarding Fees# (GBP£) Per Term (3 Terms Per Year)
Y4
Y6
Y7
Y9
Y10
Y12
Y5
Y8
Y11
Y13
-
-
5,900
8,795
8,795
8,795
Remark: #Inclusive of tuition fees but exclusive of miscellaneous fees, such as uniform, extracurricular activities