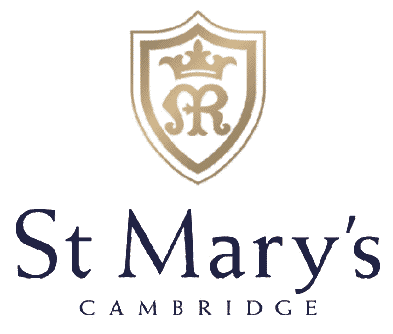 St Mary's School, Cambridge
School Name:
St Mary's School, Cambridge
Location:
Bateman Street, Cambridge, CB2 1LY, United Kingdom
Founded Year:
1898
Religion:
Roman Catholic
Type:
Girls
Boarding Age:
13-18
Year Group:
Year 6 - Year 13
No. of Students:
678
No. of Boarders:
90

Entry Requirement:




Face-to-face discussions and interviews, formal and informal assessment and detailed references from previous schools.
Year 9 (age 13+): Pupils are assessed in English, Mathematics and a Foreign Language.

Extracurricular Activities:




Over 80 extracurricular clubs a term which offer ample opportunities for everyone to be involved in the wider life of the school. Sport is important, with over 16 activities available, from rowing to hockey and tennis.

The School
St Mary's School occupies two sites within walking distance of Cambridge city centre, close to the University Botanic Gardens, with sports fields a short distance away.
St Mary's has an excellent academic record. In the 2011 GCSEs, candidates achieved a 100% pass rate and 98% received five or more A*-C grades. 99% of its A Levelscandidates were accepted into their first and second choice of university.
locate in the heart of Cambridge means boarders can enjoy the lively cultural and academic life of this beautiful university city.
Admission
Please contact the Admission Offi ce directly by email, by post or visit the School website for latest information.
Boarding Houses
St Mary's offers a full or weekly boarding programme. There are two buildings: Bateman House for Sixth Formers and The Elms for girls in Years 7-10.
In 2011 St Mary's boarding care and facilities achieved an "outstanding" rating in all six categories from the UK Government's official inspection body OFSTED. The report commented: "There is a genuine respect for the uniqueness of each girl, nurturing their talents and supporting them to achieve in all areas of their lives, not just academically. Girls are happy, courteous, confident and enjoy boarding."
GCSE Subjects
Art, Art History, Biology, Chemistry, Classic, Design and Technology, Economics, English, Geography, History, Mathematics, Modern languages, Physics, Science school, Music, Theology
GCE AL Subject Choice
Art, Art History, Biology, Chemistry, Design Technology, Economics, English, French, Geography, German, Greek, History, Latin, Mathematics, Further Mathematics, Music, Philosophy & Theology, Physics, Russian, Spanish
2012/13 Boarding Fees# (GBP£) Per Term (3 Terms Per Year)
Y4
Y6
Y7
Y9
Y10
Y12
Y5
Y8
Y11
Y13
-
-
9,780
9,780
9,780
9,780
Remark: #Inclusive of tuition fees but exclusive of miscellaneous fees, such as uniform, extracurricular activities