Ashbourne Independent Sixth Form College
| | |
| --- | --- |
| School Name: | Ashbourne Independent Sixth Form College |
| Location: | 17 Old Court Place, Kensington, London, W8 4PL, United Kingdom |
| Founded Year: | 1981 |
| Type: | Co-ed |
| Boarding Age: | 14-21 |
| Year Group: | Year 9 - Year 13 |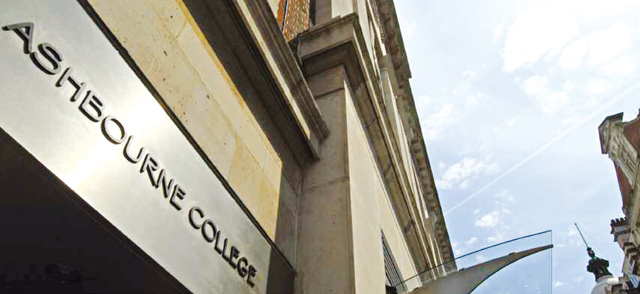 The School
Ashbourne is one of many private sixth form colleges in London, specialising in pre-university education at A level and GCSE. Following the university ethos, the college combines informality and an adult approach to education, at both A level and GCSE, with a disciplined system where each student's work is carefully monitored.
It aims to establish strong academic foundations, achieve outstanding examination results and engender a mature and independent attitude vital for taking advantage of life's opportunities
Founded in 1981, Ashbourne independent (private) sixth form college is situated in the very heart of Kensington, London. The college is fully co-educational and considers its primary strength to be its small size, coupled with its friendly and caring approach. No student is allowed to become lost in the crowd.
All courses, whether at A level or GCSE, are organised around a tutorial system in teaching groups of no more than 10 students. This enables tutors to engage directly with each individual.
No assumptions are made about a student's previous knowledge, and understanding is established in a step-by-step manner. The teaching style aims to be positive, encouraging and sympathetic to the challenges which students encounter.
Boarding Houses
Ashbourne GCSE students are usually from a variety of nationalities. Our September intake consists of the following denominations; British, Italian, Kuwaiti, Nigerian, Bruneian and Vietnamese.
Ashbourne offers a one-year intensive GCSE programme, providing a wide range of subjects. Ashbourne will expect all GCSE students to take the following five core subjects; Maths, Science, English Literature, English Language and ICT. Students will also have the opportunity to take other subjects. For the September intake, our GCSE students have signed up for the following subjects in addition to the core subjects on offer; Art, Business Studies, Classical Civilisation, French, Geography, German, History, Latin and Spanish.
Students should expect to participate in lessons from 9am to 4pm, which includes a one-hour lunch break from 1pm-2pm. As well as formal GCSE lessons, students will also participate in games for 2 hours per week, as well as PSHE for 2 hours per week.
Ashbourne Independent Sixth Form College offers two year, 18 month and a one-year intensive A levels, providing a wide range of subject choices.
2012/13 Boarding Fees# (GBP£) Per Term (3 Terms Per Year)
Y4
Y6
Y7
Y9
Y10
Y12
Y5
Y8
Y11
Y13
-
-
-
7,200
7,200
7,200
-
-
-
-
275 per week
275 per week
Remark: #Inclusive of tuition fees but exclusive of miscellaneous fees, such as uniform, extracurricular activities