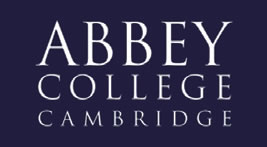 Abbey College Cambridge
School Name:
Abbey College Cambridge
Location:
17 Station Road, Cambridge, CB1 2JB, United Kingdom
Founded Year:
1994
Type:
Co-ed
No. of Students:
260
No. of Boarders:
247

School Facilities:


28 teaching rooms, six of which are highspecification science laboratories. Facilities include interactive whiteboards, internet-connected projectors, a small library, a music room and a student cafeteria.

Extracurricular Activities:




There is a choice of after-school clubs and activities. The sporting activities include football, basketball, lawn tennis and table tennis.
The chess club is particularly popular. The regular tournaments attract entrants from students and members of staff.
There is an ecological group.

The School
Abbey College Cambridge is an independent 6th form college that offers a stimulating environment in which staff and students work together to achieve academic success.
There are about 260 students at the college, almost all of whom are in the 6th form and preparing for the General Certificate of Education at A-level.
Abbey College Cambridge is part of the Alpha Plus Group and aims to maintain a "gold standard" of education. Classes are small, so enabling students and teachers to focus upon the most effective ways of learning.
The track record of Abbey College Cambridge students speaks for itself. The results have established the college as one of the very best independent 6th form colleges in Great Britain. In the 2012 A-level examinations the colleges students achieved the following pass rates: grade A* 40%, grade A*/A 72% and grade A*/B 89%.
The city of Cambridge is a fusion of the everyday and the extraordinary. It is a city that has shaped history and continues to make its mark on the future.
Admission
Please contact the Admission Office directly by email, by post or visit the School website for latest information.
Boarding Houses
Abbey College Cambridge aims to provide boarding facilities of the highest standard to allow students to thrive in their educational studies. The college gives its students an appropriate degree of independence while monitoring and being supportive of a healthy and safe lifestyle. The college also takes great care to help its students to adjust to being away from homes for what may be the first time.
Students are cared for by the Boarding Team who live in the property and who are available to help the students at all times outside of the school day. They take their meals with the students, organise social activities and are on hand for support and advice. The Boarding Team is assisted by an Accommodation Officer and the college Vice Principal (Pastoral).
Opened in September 2011, Milton Road building is designed to accommodate the needs of Compulsory School Aged Students (14-16). The Boarding Team look after the welfare of nine students. Study programs, sporting and weekend activities are part of the program provided.
GCSE Subjects
Biology, Business Studies, Chemistry, Economics, English, ICT, Mathematics, Physics
AL Subject Choice
Accounting, Biology, Business Studies, Chemistry, Computing, Economics, English Literature, Mathematics, Further Mathematics, Physics, Psychology
Students with IELTS (or equivalent) of below 6.5 will also study English Language IGCSE during their first year of A-level study.
2012/13 Boarding Fees# (GBP£) Per Term (3 Terms Per Year)
GCSE COURSES
Course Fee
GCSE 1 Year International Programme
24,000
GCSE 2 Year International Programme
20,000
A-LEVEL PROGRAMMES
Course Fee
AS / A2 Programme
24,000
AS / A2 Programme with Academic English
29,000
18 month A Level course
20,500
18 month A Level course with Academic
24,000

English(18 month A Level courses Jan - July 2015)
For both 2 year and 18 month A Level programmes, students with IELTS less than 6.5 MUST study Academic English.

INTERNATIONAL FOUNDATION PROGRAMME
Course Fee
International Foundation Programme
24,000
ACADEMIC ENGLISH
Course Fee
Full time Academic English (per term)
6,750
ACCOMMODATION FEES
Please contact the college accommodation office for more datailed information.
Remark: #Inclusive of tuition fees but exclusive of miscellaneous fees, such as uniform, extracurricular activities