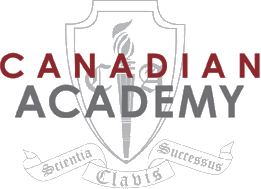 Canadian Academy
School Name:
Canadian Academy
Location:
4-1 Koyo-cho Naka, Higashinada-ku, Kobe, 658-0032, Japan
Founded Year:
1913
Motto:
Scientia Clavis Successus (Knowledge is the Key to Success)
Type:
Co-ed
Boarding Age:
11-19
Year Group:
Nursery - Year 12
No. of Students:
650
No. of Boarders:
22

School Facilities:


Two beautiful theaters, the main building Theater and the P&G Black Box theater in ELAC

Extracurricular Activities:




CA is a member of the Asia Pacific Activities Conference (APAC). The school's sports teams and arts groups send students to annual tournaments and festivals in coordination with other international schools from China, Hong Kong, Korea and the Philippines and participate in the Western Japan Athletics Association.

The School
Canadian Academy (CA), founded in 1913, is an independent pre-K–12 international school in Kobe, Japan on the man-made Rokko Island; more than 35 nationalities are represented in its student body.
Canadian Academy is a private international school approved by the Japanese Ministry of Education, accredited by the US-based Western Association of Schools and Colleges (WASC) and the Council of International Schools (CIS), and certifi ed to award both the US high school and International Baccalaureate diplomas.
CA has implemented the IBO Primary Years Program (PYP) and Middle Years Program (MYP). The curriculum is in English.
The International Baccalaureate Middle Years Programme (MYP) is offered for students in grades six to ten. These courses prepare students for the International Baccalaureate Diploma Programme which is offered for students in grades eleven and twelve
The IB Diploma Programme is offered for students in grades 11-12. Not all students are required to take the full IB diploma; however, many students will usually take at least a few IB courses.
Admission
All high school students applying for grades 10 – 12 are required to include an offi cial transcript from their current school. They should post or bring with them, an offi cial transcript which includes the year just completed.
Boarding Houses
Gloucester House, one of only a few international dormitories in Asia, consists of two separate living units (houses) and a recreation center. It provides a living option for students from outside the Kobe area.
Each unit contains a kitchen, lounge, six student bedrooms, and three bathrooms. Besides modern accommodations for the students, each 12-student unit includes a dorm parent apartment so that a family relationship can grow among students and their resident advisors, who are also teachers at CA.
2012/13 Boarding Fees# (In JPY¥) Per Year (3 Terms Per Year)
Y4
Y6
Y7
Y9
Y10
Y12
Y5
Y8
Y11
-
2,153,000
2,153,000
2,114,000
2,114,000
2,114,000
Remark: #Inclusive of tuition fees but exclusive of miscellaneous fees, such as uniform, extracurricular activities